Everything You Need to Know About Dynamic Island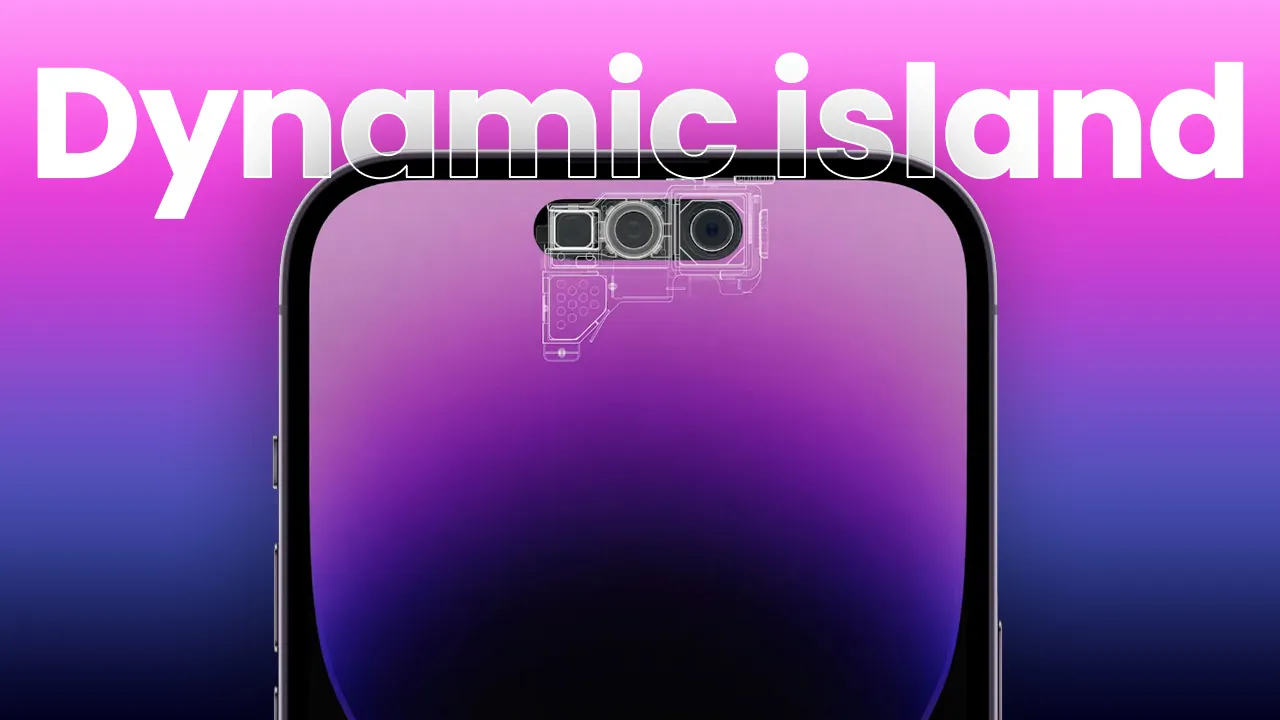 Dynamic Island is a cool new feature on the iPhone 14 Pro Series and 15 Series. It's a pill-shaped area at the top of the screen that houses the front camera and Face ID technology. But it's not just a spot for the camera – it's a part of your screen that can change to show you different things like notifications, alerts, and ongoing activities.
In this blog post, I'll talk all about Dynamic Island. I'll explain what it is, how it works, and how you can use it. I'll also explore the main functionalities it offers.
Features of Dynamic Island
Dynamic Island on the iPhone 14 Pro Series and 15 Series is pretty awesome! Here's a simple breakdown of what it can do:
Shape-Changing Design: Dynamic Island can get bigger or smaller to show different things. For example, it'll grow to show you a message when you get one or show you the album art and controls when you're playing music.
Live Updates: It can also show you live updates from different apps. So, if there's a sports game on, it can show you the score. Or if you've ordered food, it can show you how far away it is.
Getting Alerts: See calls, messages, or other app alerts. Tap to open them, or swipe to get rid of them.
Controlling Music: See what's playing and control the music right from Dynamic Island.
Live Activities: Keep up with live scores, food deliveries, or your Uber ride without leaving your current app.
Use Other Apps: Some apps have special features just for Dynamic Island, like weather apps showing the current conditions or flight apps showing your flight status.
Overall, Dynamic Island changes how we use our iPhones, making it a big step up from the old notch design on earlier iPhones.
Pros & Cons
Pros
Gives you more screen space
Offers smooth animations
Provides quick updates without app switching
Display live activities
Cons
Hard to reach
Annoying when watching videos
What Can the Dynamic Island Do?
There are numerous possibilities with this feature, but some of the most significant ones are outlined below:
Showing Notification and Alerts
Dynamic Island on your iPhone isn't just cool; it's super helpful. It shows you a bunch of updates and alerts, making sure you don't miss a thing.
Paying with Apple Pay: You'll see a confirmation right there when you make a payment.
Privacy Checks: Little icons pop up when your mic or camera is in use, so you know you're safe.
File Sharing with AirDrop: You'll see when files are coming in or going out.
AirPods Info: Check your AirPods' connection and battery life.
Battery Updates: Know when your iPhone is charging or if the battery's low.
Silent Mode and Alerts: See when your phone's on silent or get alerted for important stuff.
Quick Access: Unlock with Face ID, use your CarKey, or open your Apple Watch.
Handy Shortcuts: Run shortcuts and see when there's no data or your SIM's acting up.
More Connections: Easy peasy interactions with NFC, AirPlay, and changes in Focus mode.
Extra Alerts: Light up your flashlight and get notifications, all in one place.
Background Activities
While you're doing other stuff, Dynamic Island keeps you in the loop with background activities.
Maps on the Go: Get your next turn and know how far to go with Maps directions.
Call Info: See who's calling and how long you've been on the call.
Music Timer: Check the time left on your current track.
Countdowns: Keep an eye on active timers.
Sports Score: Get live scores from your favorite games.
Sharing and Recording: Stay connected in SharePlay sessions, keep tabs on screen recordings, and know when you're recording a voice memo.
Network Heads-Up: Know when you're using Personal Hotspot.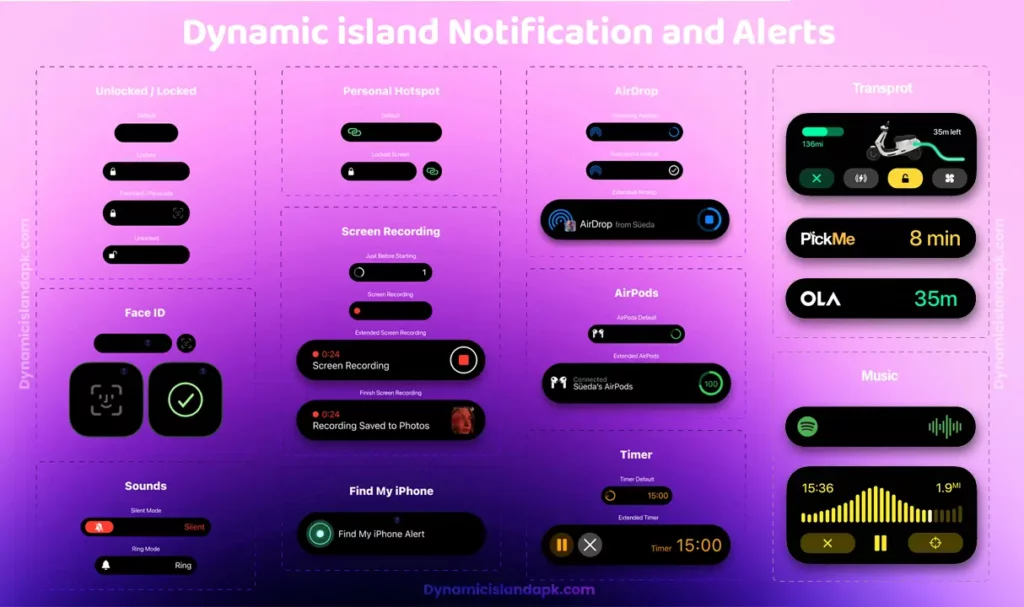 So, there you have it! Dynamic Island makes everything easy to check and interact with, all from the top of your screen.
Dynamic Island vs Notch
Dynamic Island is a fresh and smart feature that works better and does more than the old notch. Here's a simple comparison of the two:
| Dynamic Island | Notch |
| --- | --- |
| Pill-shaped cutout that can change shape and size | Rectangular cutout |
| More efficient use of display space | Less efficient use of display space |
| Can display notifications, alerts, live activities, and third-party app content | Cann't display anything |
| Users can interact with notifications and live activities directly | Users cannot interact with notifications and alerts directly |
| Supports third-party apps | Does not support third-party apps |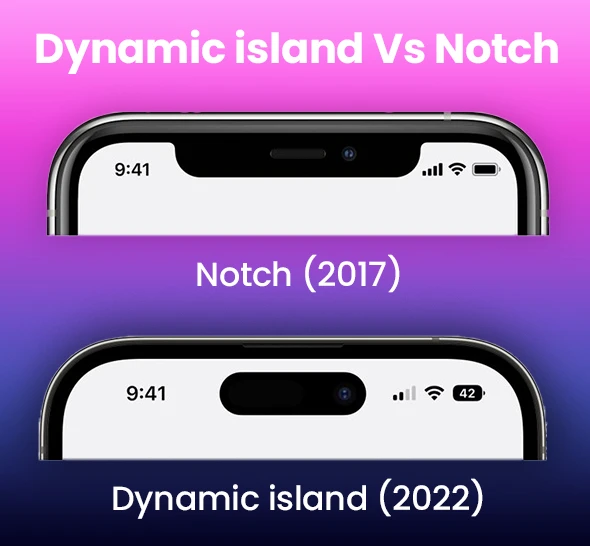 To wrap up, Dynamic Island on the iPhone 14 and 15 Series proves to be a useful and innovative feature, providing a smoother user experience, additional screen space, and convenient access to updates. Despite having some downsides, it undeniably marks a major advancement in phone design and user interaction.
If you are an Android user and wish to use this feature on your device, you can download the Dynamic Island APK. Feel free to leave a comment below if you have any questions.