Dynamic Island Supported Apps for iPhone 15 Series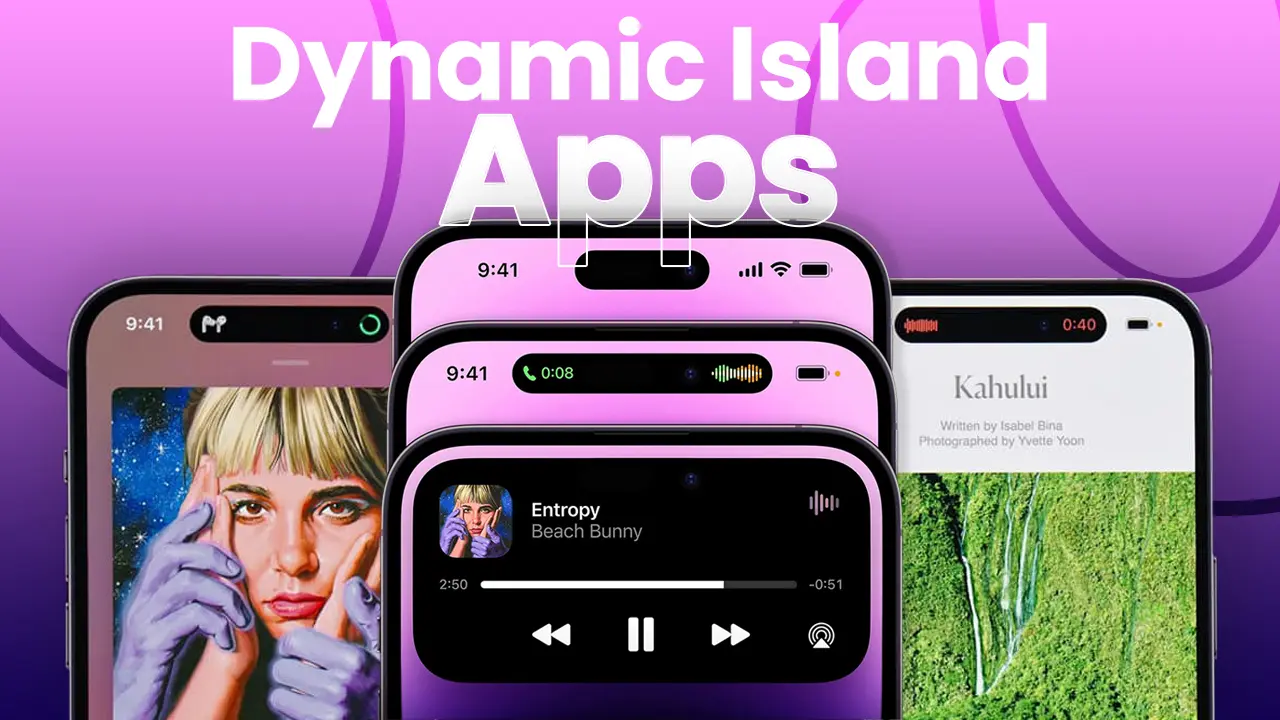 The Dynamic Island on the iPhone 15 and 14 Pro models is more than a sleek design update; it's a functional hub for notifications and live updates at the top of your screen.
If you want to make the most of your iPhone 15, it's good to know which apps work with the Dynamic Island. In this blog post, I'll share a list of popular apps that are compatible with this feature. Let's dive into the "Dynamic Island Supported Apps" and see how they can enhance your experience.
How does Dynamic Island work?
Dynamic Island is a cool, flexible spot on your iPhone 15 and 14 Pro. Tap it to open an app, or press longer to see more info from some apps. It can show two things at once if you're doing more than one task.
Apple has made new ways for notifications to show up, and the usual iPhone apps work with it. You can use it with a bunch of apps at the same time, and other apps will get this feature soon. Let's check out which features and apps are ready for Dynamic Island now.
List of popular Dynamic Island supported apps
Dynamic Island supported apps are made to work with the new Dynamic Island on the iPhone. They show updates and let you interact right from this little island, so you can keep track of things without switching apps.
System Notification & Alerts
Dynamic Island shows you different alerts on your iPhone in a smart way. Here are some simple examples:
Calls: When someone calls, Dynamic Island gets bigger to show you the caller and buttons to answer or hang up.
Face ID: It grows to give instructions for setting up Face ID and shows a little face animation when you use it.
Battery Charging: Plug in your phone, and it will tell you how much charge you have right on the Dynamic Island.
Silent Mode & Focus: Switch your phone to silent, or start Focus mode, and you'll see a quick alert on the Dynamic Island.
AirPods & Accessories: Connect your AirPods or other devices, and it shows battery life or connection status.
AirDrop & AirPlay: Get or send files with AirDrop, or use AirPlay, and the Dynamic Island will show the progress.
Hotspot: Share your phone's internet, and a symbol pops up. Tap it to go straight to hotspot settings.
Dynamic Island can also tell you when your Apple Watch is unlocked, your car key is used, your battery is low, an NFC tag is scanned, you're using Shortcuts, there's no data, or there's something about your SIM card to know.
Live Activity
Dynamic Island lets you keep an eye on what's happening on your iPhone without stopping what you're doing:
Ongoing Calls: You can see a call's progress with a cool meter, and even the sound waves show up – green for the person you're talking to and yellow for you.
Timer: Set a timer, and it pops up in Dynamic Island. You can watch it count down without opening the app. Press it for quick controls or tap to open the Clock app.
Maps: Driving somewhere? Apple Maps shows you turns and how far you have to go on Dynamic Island. Google Maps will just show a symbol, though.
Voice Memos: Record a memo, and you'll see a moving wave and timer on Dynamic Island. Tap it to open the app or press for more options like pause.
Screen Recording: Start recording your screen, and a red dot on Dynamic Island keeps you updated. Press it to finish and save your recording.
Mic & Camera: When an app uses your camera or mic, a green or orange dot shows up, so you know your privacy is safe.
Music & Audio Books: Play music or listen to an audiobook, and Dynamic Island shows mini cover art and sound waves. If you're connected to something like speakers, its symbol appears too. Just a few apps that work with this are Apple Music, Spotify, and Amazon Music.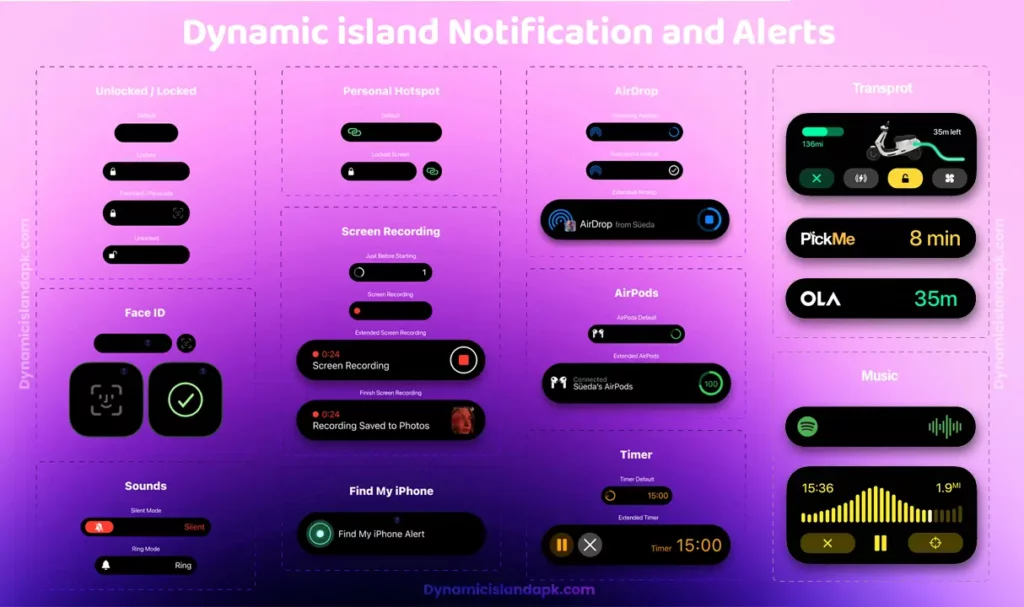 Dynamic Island is all about making it easy to see what's going on without switching between apps.
Try Dynamic Island Supported Apps…
Hey iPhone lovers! The Dynamic Island is a standout feature of the iPhone 15, delivering updates from various apps without the need to switch between them. Take a dive into the App Store and explore the apps that support Dynamic Island.
You'll discover lots of new apps and can comment below to share your experiences with them. Try out these apps and see how they revolutionize your iPhone experience.